"I believe it is vital for members of the LGBTQ+ community to have spaces to come together and build coalitions across difference and work to transform the world. The design of the project and Dance Exchange's proven model of community engagement necessitates a deep and informed responsiveness to the world around us and the specific oppressions members of an engagement community face." — Tyler French, collaborator and poet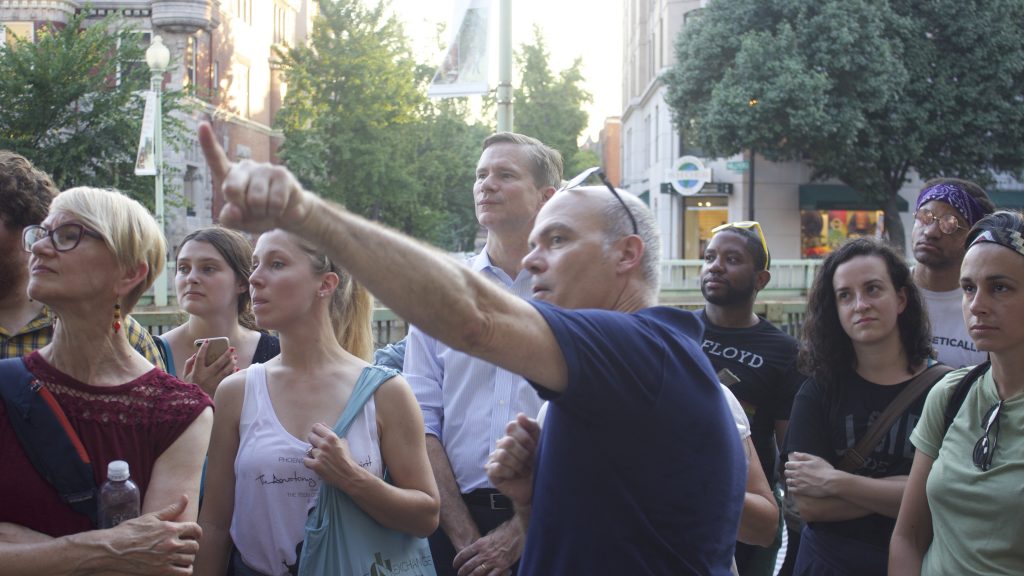 Growing Our Own Gardens is an iterative performance project rooted in queer world-making. Conceived and directed by Matthew Cumbie, this body of work centers and celebrates the stories, struggles, and possibilities of intergenerational queer communities. In 2018, with support from Dance Exchange, Growing Our Own Gardens premiered a queer world, unfolding, a DC-based iteration of this work that was informed and shaped by years of research and work with local partners Dance Place, the DC Center, the Human Rights Commission of the City of Rockville, and the Rainbow History Project.
The stage work was only one outcome of this research, though; through our partnerships, we also generated repeatable intergenerational LGBTQ+ community workshops, created connections between various LGBTQ+ individuals and organizations, and created Queer History Walks with the Rainbow History Project (walks that incorporate movement and information about LGBTQ+ histories in specific DC neighborhoods). To date, we have co-facilitated a handful of Queer History Walks with the Rainbow History Project of the DuPont and Eastern Market neighborhoods of DC; each time, we have gathered 50-60 people for these walks.
---
---
Creative Team
Matthew Cumbie, director and choreographer
Ben Carver, videographer
Heather Doyle, collaborating artist
Tyler French, collaborating artist
Jessica Hale, collaborating artist
Sam Horning, collaborating artist
Elizabeth Johnson, collaborating artist
Stowe Nelson, sound research and support
Juliana Ponguta, collaborating artist
Michelé Prince, collaborating artist
Micah Salkind, sound designer
Jazzmin St. James D'Monaco, collaborating artist
Andy Torres, collaborating artist
Randi Young, costume designer
---
Photo by Ben Carver, featuring Juliana Ponguta and Heather Doyle in Growing Our Own Gardens: a queer world, unfolding